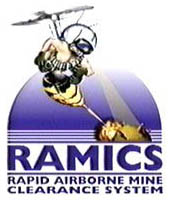 Anti-Mine Warfare:
The RAMICS Advanced Technology Demonstration (ATD) will develop and demonstrate airborne laser targeting and super cavitating projectile technologies to rapidly and effectively neutralize near-surface contact mines. Intended for use by new organic MCM forces, this three-year effort began in FY98 and has now culminated in a full-scale demonstration of mine neutralization from a Cobra helicopter in the UNDEX pond at Aberdeen Proving Grounds, MD.
The program will provide the technology to rapidly target and destroy near-surface mines with minimum risk to personnel and equipment. Currently, this task requires the use of dedicated MCM equipment or explosive ordnance disposal personnel, greatly impeding the tempo of joint countermine operations. OPNAV and PEO Mine Warfare have identified RAMICS as one of five critical systems for organic MCM from the H-60 (along with the AQS-20/X, Airborne Mine Neutralization System, Shallow Water Influence Mine Sweeping System, and Airborne Laser Mine Detection System). It addresses war fighting needs identified in Mission Need Statement (MNS) #M042-85-93 of 1 October 1993.
On Friday, November 20 1998, the program successfully completed its first year lethality demonstration (ATD1 Demo). This critical milestone required the RAMICS anti-mine projectile (AMP) to demonstrate lethality against a submerged MK6 mine.

A total of five explosive targets were neutralized in the demonstration series. The target matrix included several mine shapes: witness plates, surrogate mines,and two MK6 mines (300 lbs. of TNT). In each test, a single AMP neutralized the target through a deflagration process, which resulted in case rupture and destruction of the mine explosive. This series validated the lethality of the super cavitating projectile design against submerged large explosive targets.

The AMP was integrated into a fully ICD compatible ammunition for firing from the MK197 Gattling gun system during the fall of 1999. The gun system and LIDAR system were integrated in December of 1999 at the long range test facility at NAS China Lake, California during ATD Phase II. The RAMICS system successfully engaged a surrogate mine with the C Tech designed projectile.

The RAMICS Program Team includes the Navy, Raytheon, General Dynamics, C Tech, and Kaman.